Ultrasonic Cleaning Prices
Single Carb - from £75

Bank of two Carbs - £200

Bank of three Carbs - £225

Bank of four Carbs - £300

V4 Configuration - £350
UltraSonic Cleaning & Servicing
Ultrasonic cleaning uses cavitation bubbles induced by high frequency pressure (sound) waves to agitate a liquid. The agitation produces high forces on contaminants adhering to the internal fuel and air passages on carburettors. This action also penetrates any other blind holes, cracks, and recesses. The intention is to thoroughly remove all traces of contamination tightly adhering or embedded onto solid surfaces.
The prices quoted includes complete disassembly, ultrasonic cleaning and rebuilding back to factory settings. This includes checking and adjustment of the float heights and air/fuel mixtures screws. We can also supply and fit genuine, pattern or aftermarket rebuild kits. Including DynoJet upgrade kits and Ram-Air Filters.
It should be noted we use alkline based cleaning solutions which will only remove oils, grease, fuel residues and general soiling.
Carburettors: Restorations, Servicing, Repair & Cleaning
Using the latest high spec vapour blasting and ultrasonic cleaning equipment, we are able to provide you with the superior finish and the level of function your restoration project deserves. We undertake all work related to carburettors, from a simple strip, ultrasonic clean and rebuild, all the way up to a full restoration.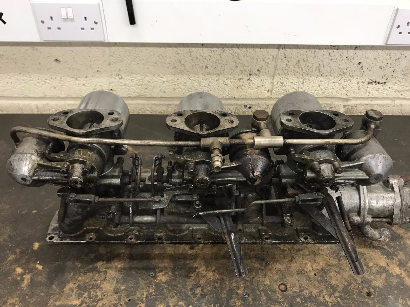 Restoration Pricing
Pricing for complete restorations is done on a case by case basis, as with all restoration work it is difficult to know what your getting into, until you take it apart.
Restorations
Restorations Services offered;
Complete Disassembly

Ultrasonic cleaning

Vapour blasting

Zinc Plating of all linkage parts

Chrome Plating (if required)

Powdercoating (if required)

Polishing (if required)

New internals (Jets,gaskets, etc)

Bench Testing & Syncro